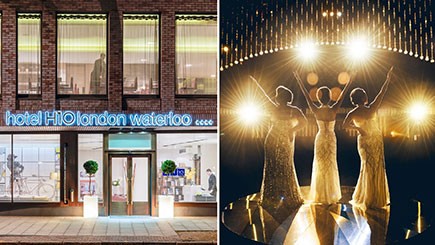 A short break to any big city, whether it be New York, Paris, Barcelona or Amsterdam, is brilliant fun, you get to feel the city, see the sites & experience the fun. London town is right up on the "A list" of cities to visit & millions of people do just that. What makes London & New York a bit special compared to the rest, are their World renowned theatre districts. The West End & Broadway are THE places to see the latest shows & London theatre breaks are a superb way to see the city, with your hotel sorted out & the tickets already booked for a great show.
What to see ?
The choice is quite frankly astounding, The West End alone has over 40 theatres, all with a production running. Some of these shows have been running continuously for literally decades. Plus all of the "non-commercial" theatres, such as The Royal National Theatre, the Old Vic or the Barbican Centre.
Let's just have a quick look at 3 of the top running shows at the moment.
The Lion King – Wicked – The Phantom of the Opera ?
THE LION KING
Set against the majesty of the Serengeti, "The Lion King" dazzles all ages with spectacular costumes, stunning special effects & the evocative rhythms of the African plains, taken care of by Elton John & Tim Rice.
Through a mixture of the cast and incredible puppets, twenty five species of animals are represented including astonishing herds of life size zebras and giraffes, you follow the adventure of Simba a fearless young lion cub, as he learns about life on his journey to become the lion king.
Fantastic music & a stunning production that is appreciated by any fan of the theatre.
WICKED
This musical sensation, is the recipient of more than 100 major international awards, including three Tony
Awards on Broadway and two Olivier Audience Awards in London.
Now the 5th longest running musical currently playing in the West End it has been seen by more than 9 million
people in London alone.
This unforgettable musical, features stunning costumes, spectacular sets and show-stopping songs in a night of spellbinding theatrical magic, with the audience being transported into this so far unseen imaginary world of Oz.
THE PHANTOM OF THE OPERA
Now in it's 33 year, winning over seventy awards & seen by more than 130 million people Andrew Lloyd Weber's incredible musical will literally leave you speechless.
With the help of jaw-dropping scenery and special effects & a truly mesmerising score, the Phantom of the Opera cast stun audiences as they perform an unforgettable soundtrack. This epic, mamouth production really has to be seen to be believed
Where to Stay ?
There are literally thousands of places to stay in London town. All the different London theatre breaks options to book, will have hotels that are within the "theatre district" or within easy reach of. Let's have very brief look at some of the hotels, just to give you an idea of what is available.
Assembly Hotel – 27 – 31 Charing Cross Road, London WC2H 0LS,
0.1 miles from West End Theatre District Guest Review – "Even though we were located street side and below the new rooftop bar we didn't hear a peep! The new bar upstairs is really fab, we had a great nights sleep (super comfy pillows) and the hotel itself is about three streets from Covent Garden Market, really close to all restaurants and theatres you really can't go wrong booking here!"
Victory House – London Leicester Square MGallery by Sofitel 14 Leicester Place, London WC2H 7BZ, England
0.1 miles from West End Theatre District
Guest Review – "We booked to stay here as we were going to magic Mike and wanted somewhere close when it finished late, well it certainly delivered, it took about 30 seconds to walk there!! I called up before the stay and asked for a twin room which they were able to accommodate, the room was large the bed were ridiculously comfortable and bathroom was modern and nicely styled.
St. Martins Lane London Hotel – 45 St. Martin's Lane, London WC2N 4HX, England
0.1 miles from West End Theatre District Guest Review – Have stayed here for the third time now, and am a fan of this hotel- stylish comfortable, great rooms though some (such as the one I got this time) are somewhat small, but overall a really great hotel…and supreme location as well. One of my favorites.
What London Theatre Breaks are there ?
SHOW & STAY
"Since we started in 2004 we've looked after the London theatre arrangements for over 300,000 customers. We understand what it takes to deliver an unforgettable theatre break, so all our products are inspected, reviewed, slept in, watched and eaten on a regular basis. We'll only ever give you the best."
This is a great company with a huge choice of hotels & shows. The website is really good, allowing you to make bespoke breaks. This allows you to budget for the theatre seating cost & then budget for the Hotel that you wish to stay at.
RED LETTER DAYS
See a popular West End show from top price seats
Relax with a night in the chic H10 Waterloo Hotel
Includes a full English breakfast each
This company are using the H10 Waterloo Hotel for the package & then you have choice of which show you wish to see. The package can be bought & then you have 10 months to use it, so it's great as a gift.
BUY A GIFT
It's Friday evening, the end of a long week and you and someone special are off to the West End for a night at the theatre followed by a stay at sumptuous 4-Star hotel with breakfast served the next morning.
A choice of shows & the usual hotel is the Holiday Inn Bloomsbury, but not always & the Offer is for Friday nights only. Again the package is bought & can then be used within 10 months. So great as a gift for family & friends or as a treat for yourself.
Would You ?
Absolutely 100% yes. You get to choose exactly when you want to go knowing that everything is booked. The choice of shows is superb, the choice of seats are superb & the choice of hotels are superb. There really is no reason not to use London theatre breaks to see a show if you are coming into London Town.